Travel Information
Phoenix Seagaia Resort
Hamayama Yamasaki-cho, Miyazaki City, Miyazaki Prefecture
TEL : 0985-21-1111 (main switchboard)
To Miyazaki airport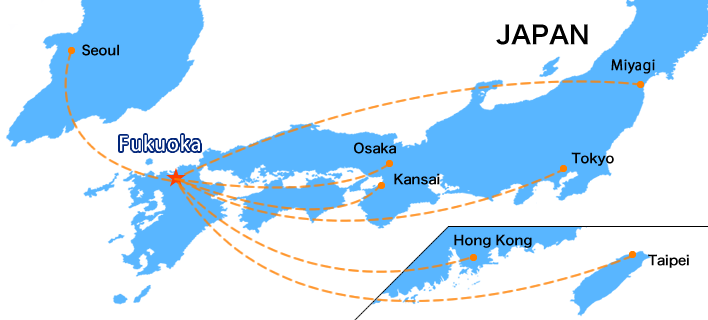 Air (Flights might be changed depending on season.)
| | | |
| --- | --- | --- |
| Tokyo | Approx. 90min | round trip 18 flights/day |
| Osaka(Itami) | Approx. 65min | round trip 11 flights/day |
| Osaka(Kansai) | Approx. 65min | round trip 1 flight/day |
| Nagoya(Centrair) | Approx. 75min | round trip 3 flights/day |
| Fukuoka | Approx. 45min | round trip 13 flights/day |
| Okinawa | Approx. 80min | round trip 1 flight/day |
| Seoul | Approx. 100min | round trip 3 fiights/day |
| Taipei | Approx. 130min | round trip 2 flights/day |
| Hong Kong | Approx. 180min | round trip 2 flights/day |
*Flight information might be changed due to circumstances of airlines.
From Miyazaki Airport
With a taxi: approx. 25 minutes
• Small size taxi (up to 4 passengers) approx. ¥4,500
• Medium size taxi (up to 5 passengers) approx. ¥5,500
(the travel time and prices vary depending on traffic conditions)
With a bus: approx. 30 minutes
(available only On Saturday, Sunday and public holidays)
Price / ¥850 (incl.tax)
With a train (via Miyazaki Station)
From Miyazaki Airport to Miyazaki Station: approx. 10 minutes
Price / ¥350 (incl.tax)
Please take a transfer to the following bus.
From JR Miyazaki Station
With a bus: approx. 25 minutes
Price / ¥510 (incl.tax)
(You may have to wait for a next bus depending on the condition of the transition of buses. Please check the time schedules prior to your trip)

​